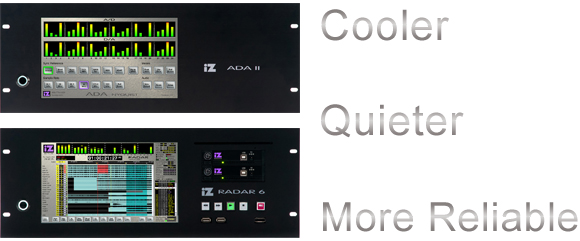 New High-Efficiency Power Supply For RADAR 6 And ADA II
iZ Technology annouces the development of a new power supply for its prestigious hard disk multi-track recorder, RADAR 6, and its standalone converter, ADA II. This new environmentally friendly development reduces thermal energy waste enabling a quieter, cooler, and more reliable recording experience for the user.
RADAR has long been the recording platform that offers the highest sound quality on the market. Built with world-class converters, Adrenaline DR technology, dual digital/analog power supplies, near-zero jitter, and near-zero latency up to 192 kHz, RADAR systems transcend the digital barriers of sonic quality. With the addition of the new high-efficiency power supply, RADAR 6 and ADA II continue to raise the bar on performance and reliability.
In the words of iZ Technology founder Barry Henderson, "The new power supply enables RADAR 6 to run quieter than ever before. It's lower temperature operation eliminates the need for a chassis fan altogether. With fewer mechanical parts and cooler operation, RADAR and ADA are now even more robust."
RADAR and ADA systems start at $6,500 USD. For pricing visit izcorp.com/purchase/price-a-radar or izcorp.com/purchase/price-an-ada.
Current RADAR 6 and ADA II users can upgrade to a new quieter recording environment. Please either call or email for details: 1-800-776-1356 or support@izcorp.com.
News & Stories From Our Customers
David Küblböck, first engineer at Casino BaumgartenThe legendary vintage studio, Casino Baumgarten, ramps up its recording power with RADAR 6, the latest RADAR system by iZ Technology Corporation. Click on the the image below to watch the interview with David Küblböck, first engineer at Casino Baumgarten.

The Analogue Cafe "RADAR is the perfect choice for our studio. The sound is breathtaking, the machine is simple to use and it is the most reliable of what's available on the market today." Click on the the image below and take a scenic tour of The Analogue Cafe.

Ten21 Recording Studios – U.K. "If you're serious about sound, you'd be crazy not to check out the ADA converters. They are awesome." Click on the the image below to see what Sean Kenny from Ten21 Recording Studios in the U.K. has to say about RADAR and ADA.
RADAR 6 PAR Review
"iZ Technology RADAR 6 Multitrack Recorder: Legendary, reliable, and world-class – RADAR is a format unto itself." – Rob Tavaglione
In This Issue:
Technically Speaking – Frank Wells "That Thing That's Called RADAR Love"
Studio Review By Rob Tavaglione and Lynn Fuston
Click on the image below to read more.


Nominate RADAR 6 for the 2013 PAR Excellence Awards!
RADAR 6 has been nominated for the 2013 PAR Excellence Awards! Make your opinion in the audio industry heard. Click here and cast your ballot for RADAR 6.
Opportunity Awaits…
Your system is getting old. Why not reclaim its value? Click on the image below to see how you can redeem your system to its maximum potential.

Stay in the loop with iZ
Subscribe to our eNewsletter here.