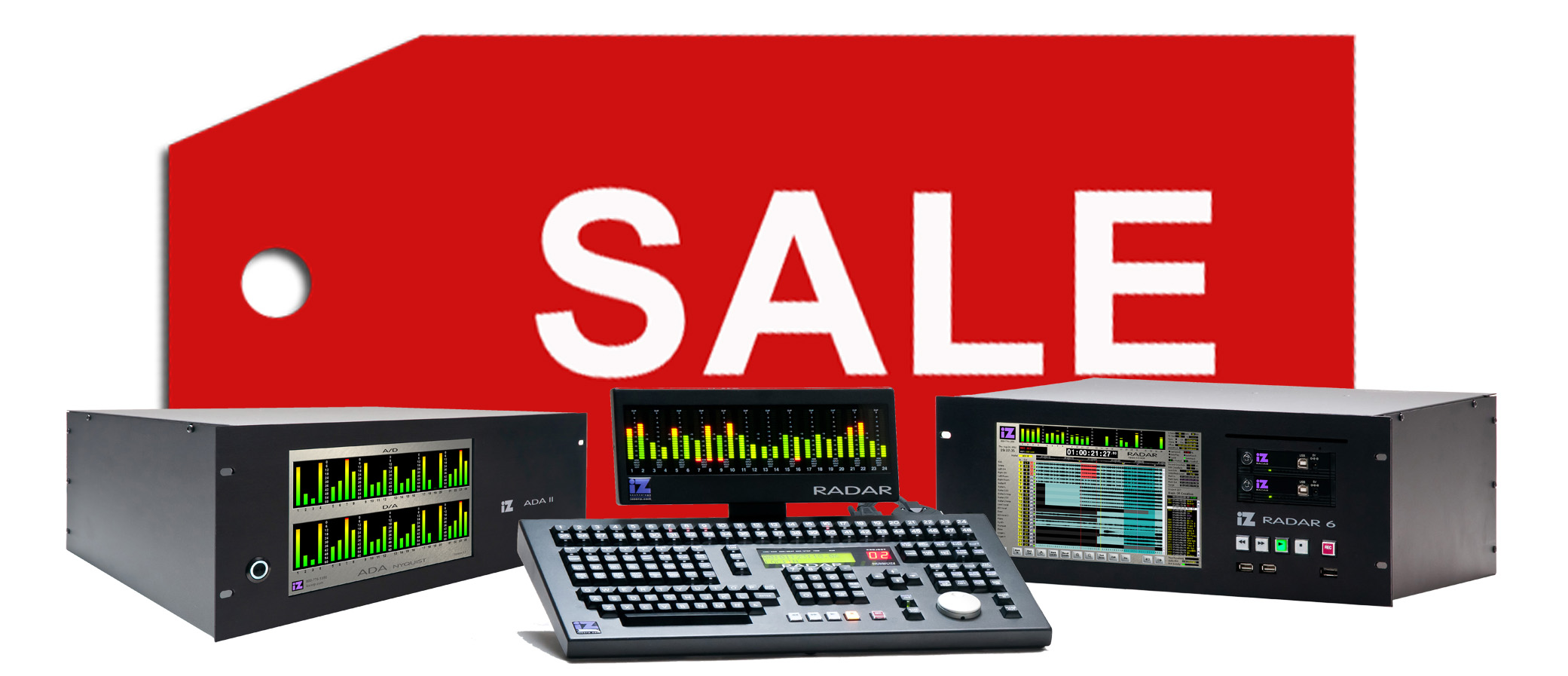 15% Off! + Free Shipping now until midnight, July 12th 2014.
RADAR 6 makes sounding great…SIMPLE. For years we've been building and delivering the most reliable, robust, and digitally elegant recorder on the market. RADAR 6 redefines "fidelity" by its ease of use, pristine sound quality, and rock-solid reliability.
Don't just take our word for it. Check out the celebrity testimonials below or online at www.izcorp.com/users/buzz. Better yet, talk to anyone who owns one, and then talk to one of us. Regardless of who you speak to, you'll hear a common message. RADAR 6 faithfully records and plays digital sound with unparalleled dynamics and integrity, and it does so better than any other device on the market. It's that simple.
But if you've already figured that out, and are one of our lucky RADAR 6 owners, perhaps we could interest you in the best sound conversion system in the world today, which we've lovingly named, ADA II. When you hear what comes out of this box, you might even say, "ADA Boy". We'll give you 15% off the ADA II and we'll also cover the shipping costs. How about if we bundle a RADAR 6 and an ADA II (and a side of fries…our treat)?
And here's more. We'll also apply the discount offer to a range of RADAR and ADA accessories including:
Analogue and digital I/O
Hardware and software updates
Session Controller Professional Remote
KC24 Keyboard Remote
Remote meter bridges
We're very grateful that you've taken a moment to consider this great offer.
So, give us a call. We're proud of our renowned products, and we'd love to answer any questions that you may have. You can reach us at 1-800-776-1356 or www.izcorp.com.
*Expires at 12:00 AM on July 12th.
*Offer does not include free shipping on accessories and cannot be combined with any additional discount.
Financing Available!
Get a RADAR and/or ADA into your studio today! Don't worry about paying everything up front. Contact us to talk about financing your system with LFCI.
LFCI is a specialized financing company that has been in the high-end audio equipment business for 24 years. Most approved leases happen with just an application and three bank statements, making it easy to qualify. "We do not just look at credit scores but the big picture." – Greg Carr, Owner of LFCI. For more information, contact LFCI: 843-363-5990 or 1-800-626-5324.
Opportunity Awaits…
Your system is getting old. Why not reclaim its value? Click on the image below to see how you can redeem your system to its maximum potential.

Check out our website!
See who's using iZ products, read product reviews, watch customer testimonials, and much more right here.
Stay in the loop with iZ
Subscribe to our eNewsletter here.