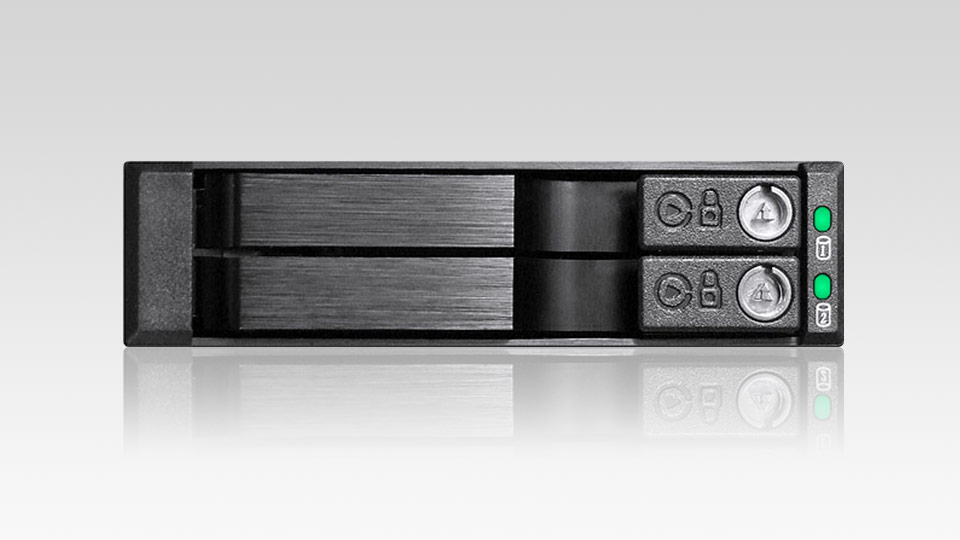 Ensure the optimum performance of your RADAR system and the integrity of your stored data with iZ-tested drives and interfaces. We do extensive testing on drives to ensure that all drives meet RADAR's stringent performance requirements, are 100% compatible with RADAR systems, and are free from any factory defects.
Industrial Dual Key Lock SATA Receiver
Industrial Dual Key Lock SATA Receiver made from high quality, high thermal conductivity aluminum to keep drives operating at the lowest possible temperature. Any standard Solid State or Mechanical 2.5" SATA drives up to 9.5 mm thick can be easily inserted into either of the dual receiver slots. With two dual receivers installed, RADAR can now accommodate a total of 4 removable key lock record/archive drives containing an unprecedented amount of data. The dual receiver is "trayless", accepting "bare" drives, dispensing with costly drive enclosures, and making the installation of newly purchased drives a simple one step insertion. The steel locking mechanism ensures that drives are locked firmly into position and cannot be removed during operation, thus protecting your precious audio data. In workstation mode, the auto-mount drive slots allow record or archive drives to be hot swapped simply by inserting or removing the drive, without the need to perform an unmount procedure such as with USB drives. With a 50,000 insertion rating, the iZ Industrial Dual Key Lock SATA Receivers are the highest insertion rated removable drive system available.
SDXC Card Bay
The SDXC Card format is the latest storage technology sweeping the portable computing world, the laptop market, and it is even starting to show up on some desktops. SDXC (XC means extended capacity) cards are specified for a maximum capacity of 2TB on one card, and have an interface design that facilitates audio recording at up to 192 kHz. When the project is ready for the DAW, simply remove the SDXC card from the RADAR and plug it directly into your MAC laptop for easy high speed file transfer.
Blu-ray/DVD Combo Drive
The RADAR Blu-ray/DVD combo drives are high quality slot load drives that can burn red book audio CDs, as well as regular data CDs and DVDs and the latest Blu-ray disks. This drive can also read RADAR legacy DVD-RAM backups and exports from bare DVD-RAM disks.